The Beauty Products
(Chinese Characters)

Shampoo
Cologne
Mousse
---
Shampoo
Names: Shampoo
Name Meaning: Shampoo = "raw uncut jade or coral"
Age: 16
Relatives: Cologne (great-grandmother)
Nationality: Chinese
Eye Color: Purple-Red
Hair Color: Blue-Purple
Curse: Changes into a pink house cat whenever he touches cold water, and changes back to herself when he touches warm water
Love Interest: Ranma
Loved by: Mousse
Fiances: Ranma Saotome
Occupation: Waitress and food deliverer at the Neko Hanten
Hobbies: Martial Arts; Chasing Ranma
Fighting Styles: Chinese Amazon
Weapons: Bonbori (round maces)
Weaknesses: Unfamiliar with Japanese language and customs
Opponents and Rivals: Akane, Ukyou, and Kodachi


Shampoo can be very sweet and also very violent at times. Probably the most physically affectionate of Ranma's multiple fiancees, Shampoo has been known to attach herself onto Ranma at any given moment. Shampoo can, however be a ruthless Amazon, especially when it comes to fighting for Ranma. She has gotten into multiple fights with Ranma's other fiancees. Overall, Shampoo has the ability to be really cute and sweet and also the ability to be cold and heartless. She, like Ranma's other fiancees, is always trying to find a way to get her rivals out of the way so she can have Ranma to herself.

Shampoo comes from a village of Chinese Amazons, where the women train to be vicious warriors and martial artists. Shampoo was considered to be the best of the Amazon warriors in her village. That is, until she was defeated in battle twice....by the same person. That person is Ranma Saotome.

When Ranma and his father Genma Saotome were traveling through China on their way back from Jusenkyo, starved with hunger, they decided to stop in the Amazon village to eat. Unfortunately, Genma and Ranma ended up eating the feast of food that was first prize for the winner of the village's martial arts contest. Shampoo, the champion, challenged Ranma (who happened to be a girl at the time) to a duel.

Onna-Ranma defeated Shampoo, and that proved to be a grave mistake. According to part of an Amazon law concerning battle with outsiders, if an Amazon is defeated by an outsider who is female, the Amazon must give a "Kiss of Death" and then kill her.



Thus Shampoo followed Onna-Ranma and Genma all around China, trying to kill Ranma. Eventually, she caught up to Ranma in Japan - though this time, she saw the male Ranma. Believing that the Tendos were hiding Onna-Ranma, Shampoo attacked - only to be defeated again, by male Ranma this time. Expecting another "Kiss of Death", Ranma recoiled in fear from the recovering Shampoo. What he didn't expect was a very passionate kiss!

You see, the other part of the Amazon law concerning battle with outsiders goes like this: if the outsider who defeats an Amazon is male, the Amazon must make him her husband! So now, Ranma was loved by Shampoo as a man and hated by Shampoo when he was a woman. Shampoo had no idea that the two were one and the same.

Shampoo eventually saw Ranma's fiancee, Akane as an obstacle to getting Ranma, so Shampoo attempted to kill Akane too. Ranma could only stop her by showing Shampoo the true nature of her Jusenkyo curse. Torn between loving Ranma or killing him, Shampoo left in tears.

Shampoo returned to the village of the Amazons, and was ordered by her great-grandmother, Cologne to train with her for failing to kill Ranma. Cologne, though, picked a certain cursed training ground of springs to train at. Shampoo was knocked into Maoniichuan, or the Spring of Drowned Cat.

After explaining the unique circumstances surrounding her obligations to Ranma, Shampoo was allowed to go back to Japan, where she and Cologne opened up a ramen restaurant called the "Neko Hanten" or "Cat Cafe" near the area of the Tendo dojo. To this day, Shampoo pursues Ranma, in the hope that she can get all of Ranma's other fiancees out of the way and get him to herself.



---
Cologne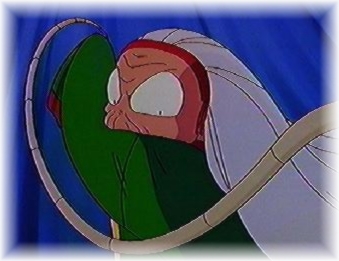 Names: Cologne
Name Meaning: Calogne = "rugged mountain place"
Age: 100-300
Relatives: Shampoo (great-granddaughter)
Nationality: Chinese
Eye Color: Black
Hair Color: White
Occupation: Restaurant owner and chef of the Neko Hanten
Hobbies: Devising schemes to get Ranma to marry Shampoo
Fighting Styles: Chinese Amazon
Weapons: Staff
Opponents and Rivals: Happosai


Cologne is the great-grandmother of Shampoo and upon Shampoo's return to Japan, she moved to Japan with her and opened the Neko Hanten(Cat Cafe).



Cologne is a master martial artist and knows many techniques that had been lost to the ages. She is a constant source of trouble for Ranma, because she knows how strong he is and that the would make an excellent fiance for her great-granddaughter. But despite causing so many problems for Ranma, she honestly likes him and has helped him to become a much more talented martial artist teaching he and Ryoga such techniques as the Bakusai Tenketsu, Kachu Tenshin Amaguirken and the Hiryu Shoten Ha.



---
Mousse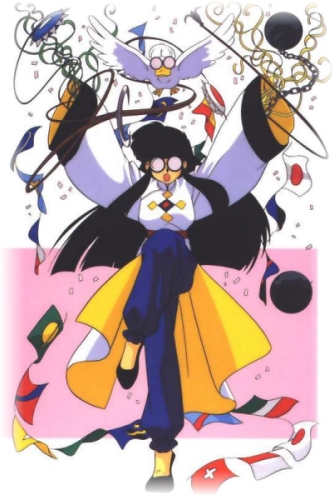 Names: Mousse
Name Meaning: Mousse = "a hair styling product"
Age: 16
Nationality: Chinese
Eye Color: Green
Hair Color: Black
Curse: Changes into a white duck whenever he touches cold water, and changes back to herself when he touches warm water
Love Interest: Shampoo
Occupation: Busboy at the Neko Hanten
Hobbies: Chasing Shampoo; scheming
Fighting Styles: Chinese Amazon
Weapons: Vast never-ending arsenal of hidden weapons
Weaknesses: Myopic, and nearly blind without glasses
Opponents and Rivals: Ranma


Mousse seems to be a normal guy, until you factor in that he worships Shampoo. Then things get complicated. Mousse has, many times, been as devious about winning Shampoo as Shampoo is about winning Ranma. He's tried countless times to get Ranma out of the way and has failed miserably every time. He seems to have almost as much pride as Ranma, but he's made it clear that he is ready to throw all that aside for Shampoo, whom he loves with a passion. The only reason that he seems like such an idiot sometimes is because he either doesn't have his glasses on or is near Shampoo.



Mousse is, like Shampoo, from the Village of Amazons. A childhood friend of Shampoo who fell in love with her, Mousse first proposed to Shampoo when they were three years old. According to Amazon law, however, a woman must marry the man who defeats her in battle. Unfortunately for Mousse, Shampoo kept defeating him year after year.

When Shampoo was finally defeated for the first time by Ranma (who was female at the time), Mousse was not concerned, seeing as Shampoo was merely leaving to kill her according to Amazon law. However, when he heard that Shampoo had been defeated by a man and wanted to claim him as her husband, Mousse followed her to Japan in a rage. He challenged Ranma, but lost yet again.

Mousse returned to China to train, and happened upon Jusenkyo, the Ground of Accursed Springs. Mousse, in an attempt to train at the ground, accidentally walked into a spring called Yaazuniichuan, or the Spring of Drowned Duck. Thus, Mousse turns into a duck when splashed with cold water. Mousse later returned to Japan with buckets of Yazuniichuan to try and douse Ranma with them, even resorting to kidnaping Akane to get Ranma to come and fight him. However, Ranma triumphed again, and Mousse was defeated once again.

Actually, if Mousse had had his glasses on, he would have never walked into that spring that way. This is because another thing about Mousse is that he's VERY blind without his glasses, and tends to mistake one person for another, or even an object for a person. Oftentimes he neglects to wear them and makes these foolish mistakes.

Mousse has taken up residence in the Neko Hanten, working for Shampoo's great-grandmother Cologne. He's still determined to defeat Ranma so he can have Shampoo.