PolrBear12's Ranma ½ Haven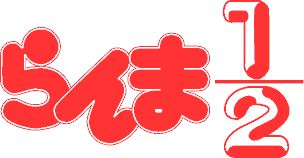 Hey! Thanks for visiting my Ranma ½ site! I hope you like it!
Make sure to sign my guestbook!

News



Tuesday, November 30, 2004
Holy crap, I haven't updated, or even thought about this site in freaking forever. I know it's not really an update, but it's a freaking awesome offer.



Check this out! Free photo IPods. Not only is it a free IPod, but it is a new kind with a hi-def color screen, to display photos. And if you do what the website says, which is not hard and completely free, you can get one yourself, free! Try it, it really does work!
Saturday, July 20, 2002
I put my Ranma graphic novels volumes 1-5 on eBay for a very good price. Go check it out, it's a great deal. Good luck bidders! My Auction! Hurry, it's only up for 7 days!

Sunday, June 9, 2002
Stupid Tripod deleted half my site because they were running out of server space, so I distributed by site through three accounts. All of the patrons know that this site has been down a lot lately because Tripod sucks (bandwidth limit). This means 3 times the bandwith, so I have my revenge!

Sunday, March 10, 2002
Added "Video Game" section to the site, updated picture galleries to be faster (The thumbnail galleries should be about 15 times faster loading than before!).

Sunday, February 24, 2002
FIRST ANNIVERSARY!!! Over 22,000 Hits in only one year! Thank you loyal fans.

Saturday, February 16, 2002
Various additions and improvements to the site, took down all ads that I missed initially.

Wednesday, June 20, 2001
Took down ads because they were unsuccessful.

Saturday, May 26, 2001
I put up additional ads and banners to make money.

Monday, April 9, 2001
I discovered that all of my MP3s were deleted off of the tripod server.

Saturday, February 24, 2001
Official online grand opening!

Thursday, February 22, 2001
Started builing this site.